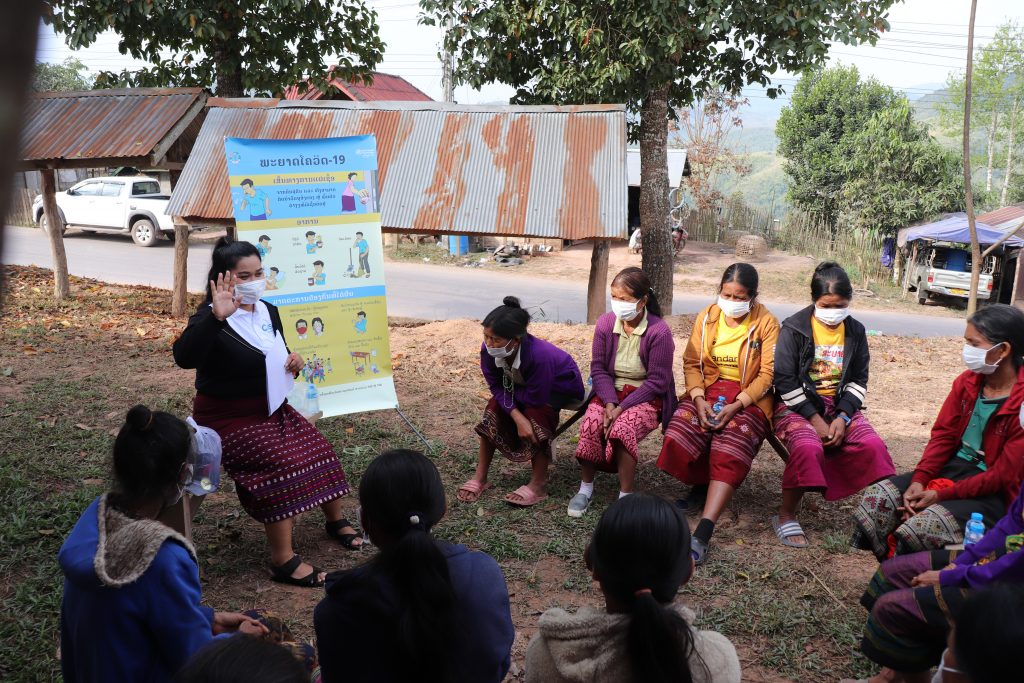 Project Location: HongSa & KeneThaow district, Xayabouly province
Target Group: 10 Villages, 4 Schools, 4 Markets, 4 Restaurants, 4 Hotels, 4 Hospitals, 1 checkpoint in 2 districts: HongSa&KeneThaow, Xayabouly province
Objective: strengthen the knowledge, prevention, understanding and response of the community, students, health workers and service uniform on Covdi-19 outbreak in 10 villages, 4 schools, 4 markets, 4 small hospitals, 1 check point, 4 restaurants, 4 hotels in 2 districts: HongSa and KeneThaow, Xayabouly province
Background: Xayaboury Province locates in the northwest of Laos, there are recently 407,004 people, 78,904 Households, 431 villages, and 11 districts[1]. The province shares its eastern boundary with Luangprabang and Vientiane Provinces, northern with Oudomxay and Bokeo Provinces, and the border with Thailand to the west and south in 647 Km long border with 4 international checkpoints and 19 local checkpoints. These are an advantage for commercial, transportation, and social-economic development. In contrast, Xayaboury is at high risk to COVID 19 pandemic and has effects from the serious issues because of sharing boundary with Thailand and Bokeo province where is the entrance of Chinese to Laos. Of those, all two districts namely  Hongsa and Kenethao have 67,674 total population with 9 ethnic groups (Lao, Puthai, Leu, Yuan, Hmong, Iumien, Khmu, Prai, and others) including children, young, adult, and elderly people who are facing with COVID 19 because of some reasons. For example, first. Lack of knowledge and information about COVID-19. The Community is lack access to information on COVID-19 prevention due to limited funding support for awareness-raising that led to limited knowledge and no prevention as well as misconception on the impact on the community and socio-economic development—there are many people who lost their jobs and income because of no commercial and travelling activities. Second, there is migration through the checkpoints. There are several migrant workers through these areas both Lao and foreigners from Thailand to Laos with a total of 3,274 people including 506 Lao migrants (55 women) and 2,768 Thai people[2]. That leads to the risk of the COVID-19 pandemic because migrations are vectors and routes of COVID-19 transmission. Third, limited technical skills and medical equipment support. Health staff is lack knowledge on COVID-19 prevention and limited medical equipment supports especial mask, gel, and needed equipment for treatment because of limited funding support from the government and the public. As a result, those led to increased risk to COVID-19 pandemic and negative impact across the country.
Activity:  

The Project Implementation Start-Up Meeting and training on knowledge, methods of prevention and Covid-19 response to project partner at the district level in HongSa and KeneThaow districts.



The success of the training is provided to participants with an in-depth understanding and implementation of corrective measures against Covid-19. In coordination and collaboration with partners at the provincial level. addition, we also provided participants with accurate knowledge and information about Covid-19 such as general knowledge about the disease, prevention and measures to control the Covid-19 outbreak.
Activity:  Baseline survey in HongSa and KeneThaow district, Xayabouly province.
This is a collection of information on the impact on the lives and social-economic development of the community, as well as the ideas and needs of the community to help solve the effects of the Covid-19 disease.
Activity: Awareness-raising activities in the community, school, small hospital, restaurant, hotel, market, checkpoint and handover the Covid-19 material protection.
Awareness-raising is aimed at raising awareness and changing the behaviour of the target groups at risk for the Covid-19 disease outbreak.